As demonstrated by the analysis, approximately 80 percent of Internet users using outdated versions of Flash, thus opening the door to criminals computers running Windows. It is possible that improved this situation will affect the Mozilla Foundation, making a warning against outdated plug-ins, the latest version of the browser, thus contributing to the fact that some users will often install security updates.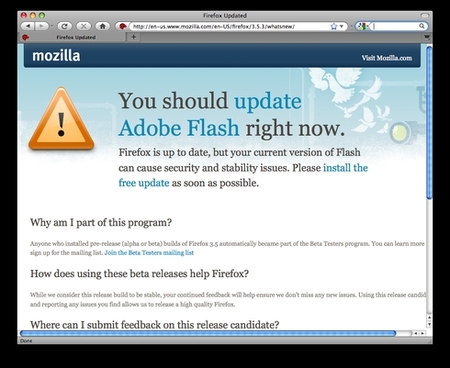 According to information provided by Ken Kovasha of the Mozilla Foundation since the release of Firefox version 3.0.14 and 3.5.3 for more than 10 million users have used the link leading to the Adobe website containing updates. The statistics do not suggest, however, if you click on this link, users actually install the new version of Flash.
Using a script on the page entitled "What's new?" Firefox checks to see which version of the plug-inu is installed on your system and if necessary warns of an outdated version. The site is opened automatically after each update the browser when it first started. On the upcoming version 3.5.3 has been called party 6 million times, while slightly more than 3 million Internet users have installed an outdated version of Flash. Overall observation of the Mozilla Foundation shows that 75 percent of visitors to the Mozilla uses the old version of the plugin.
According to the special Kovasha impressive rate of so-called Click-Through-Rate the warning, or how many users could be persuaded to visit the Adobe website: average of 30 percent. Usually page "What's new?" Is characterized by a factor of Click-Through-Rate at 5 percent. Such a high value should not obscure the fact that, after all, 70 percent of visitors ignored the call for updates.
According to the blog entry Johnathan Nightingale The Mozilla Foundation is considering the possibility of other plug-ins and check warning if it detects an outdated version, and put the link to an update. In addition to Flash to hack into the cyber-criminals exploit vulnerabilities in QuickTimie, Java and Adobe Reader.