Not so long ago we reported on a presentation in a traditional conference Google I / O and netbook nettop Chromebox Chromebook from Samsung and Acer, oriented to work with the latest, "cloud" operating system, Google Chrome OS. And now the company Xi3 Corporation also agreed to contribute to the popularization of the software platform and officially announced, as stated, the world's first desktop computer designed to run on Chrome OS.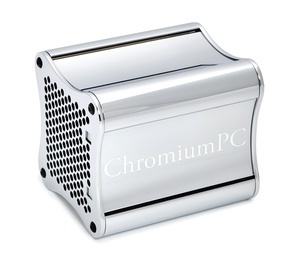 New from Xi3 was "speaking" the name ChromiumPC and, indeed, is a variant of proprietary systemsXi3 Modular Computer, Announced last year. The special features ChromiumPC include the provision of an aluminum hull and three compact units, of which, indeed, is the device. Moreover, these modules can communicate with each other and include a processor board (CPU plus RAM), as well as the main and auxiliary I / O modules
The last two modules carry a variety of ports and connectors, including Ethernet and video out. The basis ChromiumPC lies 64-bit x86 processor with one or two cores, and the dimensions of the PC was 102 x 93 x 93 mm, while it will be available in different colors. On the cost and other characteristics ChromiumPC will be announced later, but his appearance in the sales expected during the second half of the year. We add that the public Xi3 Modular Computer should be July 4.